Following 5 months of planning and 262 E-mails, I met John and George at 7 AM on 6/2/9 and left southeastern Michigan. Green starts a new day. Blue is the weather for the day. Find some trivia in yellow and some tips in this color.

June 2 from Macomb, MI to Germfask, MI 416 miles.
Weather: The forecast 3 days earlier had us expecting rain most of the day, BUT WE HAD ALMOST NO RAIN... Is that an example of God's Grace or God's Mercy? Mostly cloudy 45-55. 10-15 mph tail wind.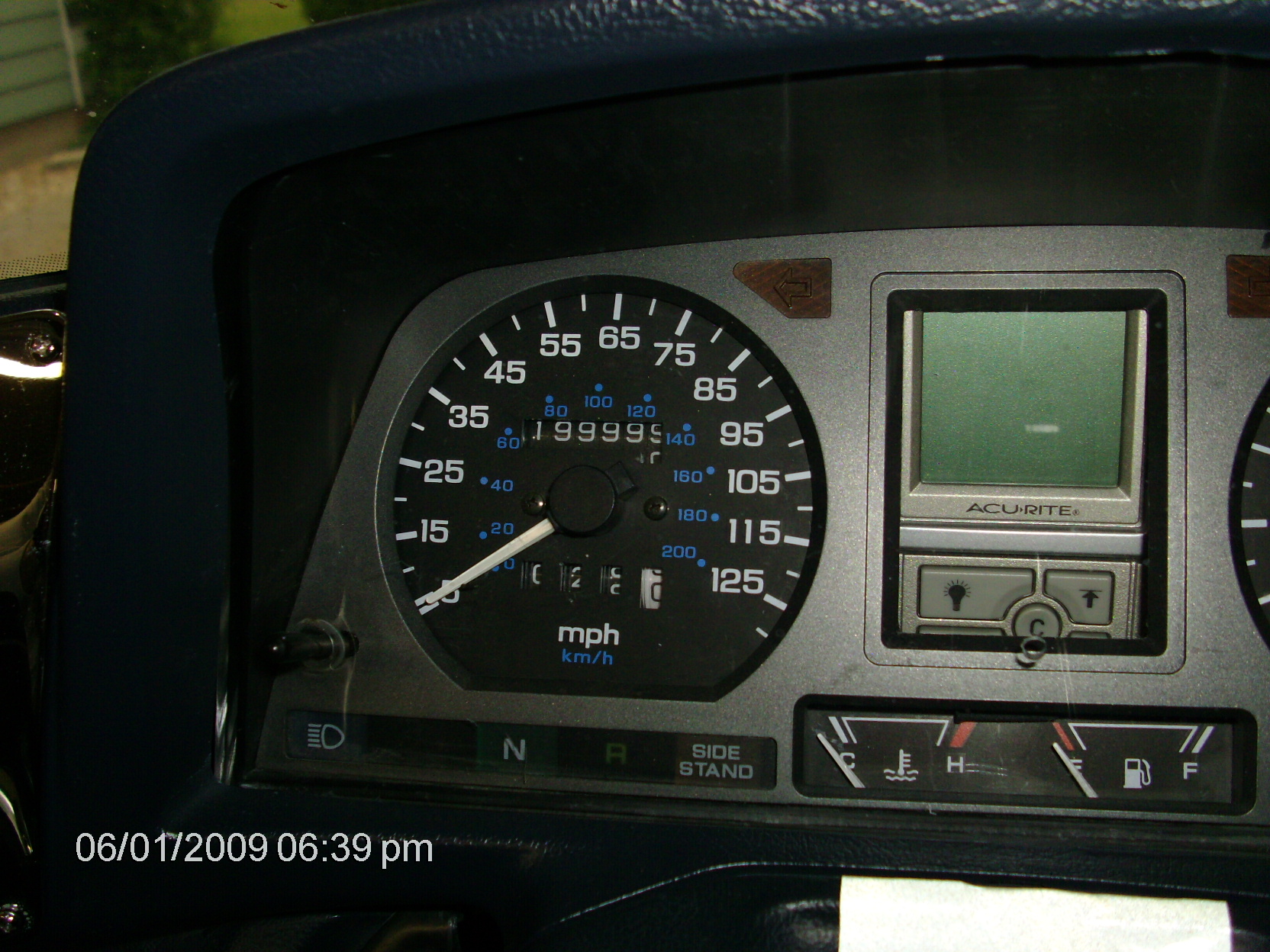 My '94 Gold Wing turned over 200,000 miles as I left my driveway this morning.
John, George and I met Ken along the way, went along the shore of Lake Huron, and the 4 of us arrived in Germfask, MI by 5:30PM - just as planned. Joe & Karen invited Stan, another biker friend, assigned him the job of cooking steaks on the grill, and we enjoyed food and getting introduced to each other.

At Joe & Karen's I noticed her many dinner guests outside the kitchen window as shown here.
Trivia: "Germfask" was named by combining the first letter of the 'founding fathers' last names. Joe was even able to rattle off their names during breakfast.
G = Grant
E = Edge
R = Robinson
M = Mead
F = French
A = Ackley
S = Sheppard
K = Knaggs
Stan returned home after supper. In the morning Ken headed back home, Joe will ride with John and me for a couple days and George plans to stay in the Upper Peninsula for a while before returning home.
My favorite riding is along lakes and rivers so I just had to share one of those pictures.

TIP: If you camp, do you ever ask for local parks? We stopped for the night in the City Park of Ironwood, MI. The cost is $10 for one site with two tents. It has nice showers and even a laundry room. Tomorrow we plan to do lots of miles across WI, MN and stay somewhere in ND.

TIP: When leading a ride, share your basic plan with those who will be following, then provide alternatives to the plan as the day evolves. That's what John did today while leading us through the Keweenaw Peninsula.
June 4 to Devils Lake, ND 481 miles
Weather: Clear blue sky in the morning which changed to clouds by early afternoon and then rain. 50-75 light, increasing head wind to 30mph.

All of us were up by 5:40 to a second perfect day. 15 degrees warmer than yesterday morning and quickly warmed into the mid 70's for a high.

Joe took us to breakfast, then into Duluth so John could visit Areostitch and make a purchase. (Joe has GPS but John and I just have the old fashioned maps).

After lunch, the sky quickly turned dark and before long we had rain, which reminded me of this tip: Always pack with rain in mind. In other words, if you have things in a bag on the back, it should be things that are OK to get wet or protected from the rain - so you don't have that extra work while you are trying to get rain gear on.

At a stop for gas, Joe commented about the car wash option with our fuel purchase. Soon after leaving the station, we found ourselves riding in rain heading into a 30+ mph head wind. The speed limit was 65 so the rain was quickly removing the evidence of our previous days of riding (bugs), but adding the 'haze' of water from the road.

A couple of hours of riding in the rain had us talking 'motel' so we got a suite - with the benefit of Internet so we could work together on posting this update.

Goodnight. It's past our bedtime.
Weather: Clear blue skies 45-70 Variable light winds.

Most time was spent sightseeing in the UP - as far north as Copper Harbor.

Occasionally riders are blessed with perfect weather. That was the case today. It was just under freezing when we woke, but had warmed to about 45 by the time we finished breakfast and got on the road.


June 5 to Glasgow, MT 412 miles
Weather: Cloudy 45-55, 15 mph tail wind

Joe left us today and returned to Germfask while John and I continued west.(Post Script: Joe made it home on Saturday - all went well 869 miles.)

John wanted to pick up a map of Montana so we stopped at the welcome center, which was also a museum. Very impressive (free) and it seems that it just opened in May 2008. My brother, Ray, would love to be a volunteer here - they had quite a large collection of tractors, but the item that caught my eye was this chain saw (below).

With the slight tail wind, our mileage was better today. As we entered Montana the land started turning from flat to rolling hills. One valley was so large I measured it - from one crest, across the valley, to the next crest (which had a tower) was 7.1 miles and although it was overcast, there was nearly unlimited visibility.

There were two choices in campgrounds in Glasgow and the first had John speechless!! I saw the burden of the world fall off his shoulders when I agreed to check out the other place. We are so glad we did. Since its been windy and there's a threat of rain tonight, we were concerned about the tents being blown away. Some of you have experienced the NORMAL wind in MT and you know what I mean.

Below is a picture of our campground space which is across from the showers, next to the office in a small wooden fenced in area which has us very well protected from the wind - and I'm sitting on the porch using the wireless Internet... Does life get any better???

It may not get better, but tomorrow and Sunday sound like days that can't be much worse. Temp is dropping from 50's into the 30's, chance of rain 100% by late morning and accumulation of snow in the higher elevations of Glacier National Park. We may need to cancel any attempt to see the park.
June 6 to Cut Bank, MT 298 miles
Weather: 50 dropping to 38 with rain and some snow before us.
These pictures may say it all. There was more snow later, but we didn't want to stop for pictures so you'll just have to believe us - or not.
June 7 through Glacier National Park, MT. 235 Mi.
Weather: 37-60, mostly clouds to mostly sun

Why do motorcyclists talk so much about the weather on their trips? Because we are in it so much, I guess. Today it was very cloudy and 38 when I first went out to the bike. It warmed to 43 by 10:45 when we left the Motel in Cut Bank, MT to pass through the south end of the park to meet up with Fritz in the afternoon. As John and I crossed the continental divide we saw our first glimpse of blue sky and it warmed to 60 degrees by the time we met Fritz in Kalispell, MT. Fritz is John's cousin who had worse weather coming up from TX than we had. At one 8 mile stretch, it took him 2 hours because of ice on the roads. Tip: If your trip plans include higher elevations, anticipate a delay.

At our mid afternoon meeting, we encountered a traveling band in a parking lot who reminded me of the 60's. We unpacked some things in a motel with a hot tub (Fritz NEEDED) and went for a ride into Glacier NP. The very popular 'Going-to-the-Sun Road' was still closed between Avalanche and Jackson Glacier Overlook so we didn't get to visit Logan Pass.

We had a late supper and turned in after midnight. Monday we leave the US and enter Canada - after I convert some US currency to Canadian at a local bank. During our planning for this trip, someone suggested this Tip: Carry about $300 in Canadian currency for purchases under $6-7 and then use a CC for most other purchases.
June 8 to Lake Louise, Alberta 315 Miles
Weather: Rain to start, cleared my noon, low 40's into mid 50's.

'Breakfast' (such as it was) at the motel then several errands before leaving town (in the rain): Post Office for Fritz to mail souvenirs, Bank for me to convert US to Canadian money, Radio Shack for John to buy foam for his mike and then a sign place to have a sign made for AK - explained when we leave it there.

The scenery is beautiful - even when overcast. We started seeing the sun when we stopped for supper (about 8 PM). It was still light at 10:20 when I started to climb into my tent.
June 9 to McBride, BC 371 miles
Weather: 38-75 mostly sun, only into the 70's for the last 2 hours.

I was up at 12:30 (rain), again 3:30 (rain and snow) and 5:30 (rain) and finally joined John & Fritz taking down our camp sight about 6:30 as the rain quit, but the trees were still dripping. By the time we were all packed, I caught a glimpse of the sun through the trees.

Leaving Lake Louise about 8:45 am, we were going to ride a few miles before breakfast. At 9AM I saw a bear. John and Fritz missed it. About 9:18, we say an Elk. John turned around to get a picture, but I have none to share here - he took a picture with his 35 mm camera. But later in the day I got this picture of two bears - a special request from my nephew, Zachary... then some mountain goats (?) and big horn sheep (?)

John and Fritz slept well during the night of light rain, but I never got warm so I didn't sleep well. I'm looking forward to some good sleep tonight (about 70 degrees at 8 PM) so by the time I finish my laptop work and get a shower it should be cooled off to good sleeping weather - 60's.
June 10 to New Hazelton, BC 405 miles
Weather: mostly sun 45-75. Few afternoon sprinkles.

Nothing between Jasper and here is spectacular. A lot of the area reminds me of traveling SR 28 in the UP, except that is flatter. Roads have been good, scenery is just OK.

'Saw a moose about 30' off the shoulder - he looked so perfect I wondered if he was real, but he did start moving back into the woods as Fritz and John passed. We also saw a black bear.

We had a slight mishap today. John sprung a gas leak. Since his RT is fuel injected, the gas is under about 45 psi pressure. it looks like the 'quick disconnect' broke so he has been getting some help from a railroad man who is also staying at the motel where we decided to spend tonight.

Tip: When making a long trip, you'll often be loaded heavier than normal. That means that when you park the bike, the suspension is compressed more and the bike sets more upright when using the side stand. You'll be tired when you stop sometimes and the pavement/gravel may not appear to be sloping as much as it actually is. Do you know where I'm going with this? Be extra careful when parking so you bike doesn't fall to the right.

After our stop for supper, two of us notice a sign about the road being closed on our next planned road... We may not be able to leave at 4AM as planned.
June 11 to Hyder, AK 165 miles and holding...
Weather: Beautiful!!!

Since I mentioned no spectacular scenery, I thought I should include a picture from our motel room this morning since 'spectacular' is a relative term. If you compare this pic with the one Ken took on the first morning (June 2), you'll notice that I have changed the way I pack. I like this better (tent and tarp on right side and air mattress in a waterproof bag on the left side passenger foot pegs). This gets the back seat empty and weight a little lower. My sleeping bag provides cushion for my laptop in the rear trunk. Right bag has daily clothes and shoes (which I haven't used enough to justify bringing). My rain and cold weather items go in my left saddle bag. I haven't washed the bike - except the windshield each morning. I have hit some bugs that seem to be the size of humming birds so some bug splats were almost the size of my hand.

John discovered a gas leak when we stopped at a motel last night in New Hazelton, BC. We had intentions to be back on the road by 4AM, but that didn't happen. The 'return fuel line quick disconnect' had broken. John was able to get it repaired by 10 PM. We stayed in town for breakfast since there was to be an update on the closed road by 9 AM. Shall we go as far as Hyder? Should we wait here until it opens? Shall we backtrack through Prince George, up the Chetwynd?...?...

Here's the report from the BC web site: http://www.drivebc.ca/majorEvents.jsp
Closed in both directions 22 km north of Bell 2 Bridge (93 kilometers north of Meziadin Junction) to Ningunsaw Pass, 120 kilometers north of Meziadin Junction (3.7 km) because of Mud Slide. Crews are working to clear debris. Expected time of opening Friday June 12 at 12 noon. Confidence level: LOW. Next update Thursday June 11 at 7:00 pm. Updated on Thu Jun 11 at 8:39 am. (ID# 82581)

We were able to get reservations in Hyder so we left New Hazelton about noon. The ride to Hyder can't be explained with words... and as Fritz said: "A thousand pictures couldn't do it justice" so here are a just a few:
June 12 to Watson Lake, Yukon 419 miles
Weather: mostly sun 60's

We got word after 9 AM that one lane was open (from the mud slide) so we left Hyder before noon. The ride was uneventful. Not much wild life because it was late in the day.

Hyder is worth the side trip. We found fuel in Canada (and a sign for 3 Bedroom homes for $39,900), but Hyder is, 'hands down', a much more interesting place to visit. 'Talk about character... Fritz even started talking to his wife about buying a place here... No income tax, no sales tax, the food at 'the bus' was fresh and good (halibut is what we had). The gentleman who runs the local store has only been 5 miles from Hyder ONCE SINCE October. He makes a trip once each year down to Washington to pick up some items for his store. Mail only comes in (by float plane) twice a week. They do have a Post Office but it's just a one man shop. VERY NICE PEOPLE and if you can get past the dust from the roads, would be relaxing place to live - about 80 residents. The woman pictured below owns 'the bus' and her husband brings in the fresh fish - 37 halibut the day before we were there. There's another place to eat (bar & restaurant) that was started by the parents of the lady who owns it now. Her parents started the idea of allowing people to staple a bill to the wall saying. "You will never be broke now because you can always return to recaim the money you left. There's in excess of $85,000 on the walls. So we left some also...

There was a problem with a motorcyclist almost getting washed off the road at the mud slide so they had us move up front when we arrived and follow immediately behind the pilot vehicle so he could keep an eye on us. We had almost no wait and were on our way after riding through some wet, muddy pavement where the mud slide was being cleaned up. Water was running across the road for about 50 yds and was probably only a couple inches deep.

We arrived too late in Watson Lake to pay for a camp sight so we picked a spot in the back. Showers were pay as you go ($.50 for about 2 min).
June 14 To Glennallen, AK 255 miles
Weather: I don't remember!!

Tip: If at all possible, you want to skip Beaver Creek as a stop over place. Coming into town was a sign $35 for motel rooms with queen bed. Actually, they had none of those available so we took an available room (with a double and 3 single beds) for $140. Big difference!! The room was so far from the free WiFi, that I had to go to the bar to get a signal.

It is good to be back in the USA where we don't have to convert mileage, volume and currency...and it's so nice to have signs in just one languarge. We stopped in Tok at Fast Eddies for lunch. That was a treat. We all had the salad bar ($9.50) and everything was great.
June 13 to Beaver Creek, Yukon 530 miles
Weather: 50's with sun in the morn, tuning cloudy and arriving in the rain.
We hung our sign in Watson Lake with thousands of others... It all started with a homesick serviceman posting a sign from his home town. Ours will be easy to find. This picture was taken from the turn off area (not the larger parking lot).
I saw just one bear. John and Fritz think they also saw a fox...

Since we were delayed by the mud slide, we tried to make up some miles today, but the roads slowed us quite a bit. There were many stretches of gravel - not large stones as I had been warned about, but still difficult to feel comfortable riding over about 40 mph. It was also very dusty. In my previous 200,000 miles I never noticed dust inside my saddlebags, but I noticed dust inside tonight when we stopped.

We still have a long ride to Anchorage and Sharon is flying in the day after tomorrow (early evening)so we may make it.
June 15 to Anchorage, AK 165 miles.
Weather: 50's

Tip: Mendeltna Creek Lodge at Mile 153 Glenn Hwy is the place to stop. Mabel & Russ Wimmer are the owners and have very reasonable rates for a place to stay. If you just want a place to sleep, $10 for the bunkhouse which includes free Internet and shower... We stopped here for breakfast and had to post our praise. I'll be back more than a few times during the next couple of weeks.
June 16 holding in Anchorage, AK no miles
Weather cloudy and 50's

Those of you who have been on the go for a couple weeks at a time know why God told us to work 6 days and rest 1. It appears that noone wanted to admit that they NEEDED a day of rest, but when Fritz mentioned it this morning, John and I agreed so we are just sitting/resting here.

Some of you may have noticed a bunch of the pictures from our web site had disappeared and were replaced with a dreaded little red "X". Jason couldn't help, even Jeremy couldn't help, but I reluctantly went on the Earthlink help chat line and was fixed up within a half hour. What a relief that I didn't have to individually re post about 70 pictures back to the web site!!
June 17 'Chillin in Anchorage'
Weather: Overcast, few sprinkles, 60's

John, Sharon & Fritz left early this morning for a train ride and cruise that will take a couple of days. We kept the room in Anchorage so they could leave their belongings while they are gone. This gave me a time to catch up on things and share some reflections about the trip so far.

All three of us are sending back some items which we brought and aren't using. There are 3 items which I am especially glad to have: My new Tourmaster Transition Jacket, my red kneenecks and a black neck muff which keeps the draft off of my neck.
I decided to add pictures below and not spend so much time about which pictures to post and which to not post, so you'll start seeing more pictures.

Tip: Health during a trip like this is very important. Jeri fixed me up with a bag of special vitamin supplements before I left. So far, my body hasn't let me down although it has been tired. Last night we ordered Pizza delivered to the motel. Some of you know that I love Pizza and can easily eat 4-6 pieces... but last night I had just two, which were very good. My first gallbladder attack came after eating 3 pieces of pizza, so I'm a bit cautious about pizza.
June 18 to Glennallen, AK 161 miles
Weather: cloudy 50-68, some rain.

Before I left Anchorage, I notice that I have blown the right fork seal so I'll need to begin making arrangements to change it/have it changed.

I have returned to Mendeltna Creek Lodge and took residence in their bunkhouse ($10). The bunkhouse has 2 double beds and 6 bunk beds. I'm parked outside the bunkhouse in the picture below. You can see two of the cabins between the bunkhouse and laundry/restrooms/showers building.

There must be enough RV/camping spaces for 2 dozen motorhomes easily... Several places allow you to walk down to the creek. Russ and Mabel were invited to the neighbors so they hung a 'sorry we are closed' sign on the door. I guess that is common up here and is why John and Fritz were told that just because a place is advertised to be and have certain things doesn't ensure they will be open when you need them.
June 19 to North Pole, AK 276 miles
Weather: cloudy w/several short periods of rain. 50's

After french toast & large OJ for breakfast, I headed north to the North Pole. I was in no hurry so I stopped to take several pictures along the way.

I'm having issues posting pictures so when I get that fixed, I'll have more pictures to enjoy!!
June 20 around North Pole 100 miles.
Weather: Perfect upper 60's until end of ride when it started raining

Paul, Cathy and Christy did a very good job at organizing the 1st Summer Solstice Rally and ride for Breast Cancer. We had rain Friday and Saturday evenings. Saturday night's rain didn't end until about 10:30 Sunday morning. The ride raised a little over $900 which was about $200 more than last year. Good job y'all.
June 21. To Anchorage 370 miles
Weather: mostly cloudy with about 45 minutes of rain.

I got a call from Fritz this morning while John, Sharon and he were having brunch. They visited Denali National Park Saturday but didn't see Mt. McKinley because of clouds. They offered to wait for me and were planning to return to Anchorage. That would have taken me about 2 1/2 hours so I suggested they not wait for me, but I headed west from North Pole (Fairbanks) and then south past the park and into Anchorage.

Fritz was at the motel when I arrived, but John and Sharon were being rescued by the Harley Chase vehicle following a bunch of Harleys returning to Anchorage from a Harley rally in Fairbanks. John's BMW rear end failed. That has change our plans - now the priority is arranging for parts and repairs...
June 24. En route to Homer.
Weather: started clear, increased clouds and several miles of rain.

I had an appointment with Jerry Russell in Soldotna to replace my fork seals. It was hard to tell that I had cleaned the bike the day before, but Jerry said he wouldn't charge extra for the dirty bike to work on.

When we arrived in Homer we checked in with the charter and then shopped around for a motel room. First place was $259 per night, per room. We found a very suitable one finally at $135 per night for Fritz and me. We each have a separate room with a hallway and bathroom between. John & Sharon's room was $115 with just one bed.
June 23. Stayed in Anchorage. 11.1 miles
Weather: Generally clear with temps in the 50's.
Washed the bike basically for the first time in 5,000 miles + so Jerry would have a clean bike to work on when I drop it off in Soldonta tomorrow.
June 22. Anchorage. No miles (on the bikes)
Weather: mostly cloudy and 50's

John and Sharon rented a PT Cruiser while their bike is down. We all went down town and walked around doing tourist things.

I was able to locate needed parts in NC for my front fork problem and they are to be sent by 2 day air. John will check with the BMW Dealership in the morning about having them evaluate his rear end problem so we are still holding up in Anchorage
June 25. No miles on bikes.
Weather: 60's and mostly sunny.

Fritz and I went fishing for halibut while John and Sharon spent the day exploring the area.

Some of you know that I had two specific goals in AK: 1) to meet Sarah Palin and hopefully get a picture of her on/near our '94 Gold Wing and 2) catch a large halibut. Charters are expensive, but we had reservations and went out this morning for a full day trip with K-Bay Charters in Homer. Our trip was called a '6-pack' because there are 6 paying customers.

Yesterday the largest halibut was 94 pounds. Today, I beat that with my last fish.

The first picture is the last fish Fritz caught along side my last. Three of us had fish on at the same time and we already had 11 halibut which was one short of our limit. The first 'fish' up was in fact a skeg (like a stingray). that was cut loose. Fritz had 'color' next. That means he was able to see his fish next. That was one of the largest of the day - somewhere near 50 pounds.

We released that 40-50 pound halibut as soon as the two captains hoisted my 102 pound halibut aboard. I got this quick picture just before they released the 40-50 pound halibut that Fritz had just spent 10-15 min getting up to the surface.
June 27. Panning for Gold. 95 miles.
Weather: mostly cloudy w/temps in the 60's. Some rain because we are in Alaska...(it rains a lot near the mountains especially in the afternoons).

With one of my two goals checked off, we spent the afternoon panning for gold which was on John's list. John and Sharon spent the morning picking up their bike and returning their rental car so after a burger at the king's place, we headed south to pan for gold. We paid our $15, (I got a senior's rate of $10), received some training with a demonstration and we were off to the creek... End of story. We would starve if panning for gold was our job. A couple of us did find some specks worth about $0.50 each so we made about $1 in 2 hours. It can be hard on the back, you need patience, and when we did see a speck of gold, we often moved wrong and lost it (in the sand). If you think gold is expensive, try panning for it and you'll understand why...
June 26. To Anchorage 150 miles
Weather: Mostly sunny temp about 60 all day.

After breakfast at our motel, we all went down to K-Bay Charters (800-478-8119) to pick up our processed (cut up, vacuum sealed, and frozen) fish. Then we took it two doors down to have it shipped. Fritz and I ended up with 110 pounds of fillets. Fritz sent some home and some to work and gave me the rest. It will all be shipped by Fed-Ex on Monday to arrive (still frozen) on Tuesday. This is not cheap... adding all the expenses of the charter, license, cleaning, packaging and shipping the fish will end up costing Jeri and me about $10 per pound!! But as Jeri said, I'm not likely to do this again so don't just do 'cheap' trip... What a gal!!!

One of my two goals down, and it looks like the second will not happen this trip since Sarah Palin is not in Alaska. She has been visiting her troops overseas which may explain why I have not received a response from my call to her Anchorage office.

When we left Homer, we called Jerry Russell about picking up my Gold Wing. It was all ready to go. I had left him oil and filter to change. He also fixed my broken side cover mounting tab and may have even cleaned my windshield!! Tip: If you make a trip to AK and need some mechanical work, remember that Jerry comes highly recommended by local folks. He does this 'wrenching' out of his house for 'friends' so he doesn't accept plastic payment. Here's his number: 907-262-2503

We have started talking about our last few days before Sharon catches her flight home, but we have many options. Stay tuned to what we decide and why - if you are interested.

I did laundry, maybe for the last time before I get back home. Here's a picture our the motel window just before I went to bed. Notice the time!! It's not trick photography
June 28. To Valdez. 320 miles
Weather: Started low 60's with cloudy skies, but not dark clouds. Encountered 100+ miles of rain and temps dropped into low 40's.

We all left a lot of the extra gear/cloths in a motel room in Anchorage so we could be lighter for the ride to Valdez. John, Sharon and Fritz have booked a ferry ride back to Whittier tomorrow morning. They need to check in by 7 AM for 8 AM departure. I plan to ride back to Anchorage and meet them there. This will allow me to make a side trip up to Paxson to ride about 20 miles of the old Denali Road - something recommended by a GL1800 rider who lives in Parker, AK.
June 29. To Anchorage. 485 miles.
Weather: 48-67 degrees. Cloudy with about a dozen showers.

We all got up by 6 AM and to the Ferry by 7 AM. The first picture is them lined up to get on board. I left for my ride up to Paxson then back to Anchorage via Glennallen. Yes, that involved a little backtracking. From Paxson, I rode 20 miles west on the old Denali road and back. The remaining pictures are on that old road. That stretch of road provided sights I don't recall seeing anywhere else in Alaska. It reminded me of eastern Montana. See what you think.
June 30. To Glennallen 168 miles.
Weather; 60's with short periods of rain.

After the 4 of us had breakfast at the motel, the 3 guys shipped some boxes home and Sharon did some laundry. After lunch, I went to the local Base Exchange. Sharon got to the airport about 4 PM and the three guys started out of Anchorage (during rush hour), heading east.

I have now traveled the stretch of road between Anchorage and Glennallen a total of 5 complete times and some sections 7 times. East of the little town of Sutton is a very enjoyable stretch of road that follows one of the many rivers. Sometime the road is several hundred feet above and sometimes its just a few feet above the water - and many nice curves. The speed limit is 55 and most of the curves can be taken at that speed if you don't mind dragging pegs.

When we stopped at the Mendeltna Creek Lodge (35 miles west of Glennallen on the south side of the road) Fritz and I had a baked potato and salad (then pecan pie). John had a cheeseburger and fries so he opted for no desert. We slept in the bunkhouse ($10 each) with plans that Russ would be up early to fix breakfast for our early start in the morning.
July 1. To Dawson City 360 miles.
Weather: The first day in a long time without rain. Temps in the 60's so it was perfect riding weather.

Fritz had a goal of doing the ride to Dawson on the 'top of the world highway' (I think that's what its called). John was willing to go along, so I had a choice: ride alone and meet them a couple days later or tag along on a very long (mostly) dirt road.

We left the Mendeltna Creek Lodge about 7:30 AM after having breakfast that Russ fixed. Lunch was in a little place called Chicken. You'll never guess how it got its name, but if you check the Internet, you'll probably be able to find out.

The lady who served us lunch has been coming back to Chicken for the past 6 years. She has worked there for the past 5. When they are not working, they do some panning for gold. I think it was last year that her husband and she kept track of the number of hours they spent panning (50) and they found a little over 3 oz so that's about $3,000. During the winter, they go back to AZ and only about 6 people stay in Chicken all winter. They don't get much snow but temps drop to about -70 F. That's cold!! The many miles of roads in and out of Chicken are not maintained during the winter so ... how would you enjoy living in those conditions? Remember that it's dark most of the time in the winter.

We arrived in Dawson City and stayed at the 'Downtown hotel' which has a lot of history. The Internet was slow so I didn't bother trying to update our web site with Alaska info. John had brake problems just as we arrived in Dawson City. His ABS was blinking and we determined that it might just be a result of brake fluid being too low.
July 2. To Teslin, Yukon. 439 miles.
Weather: Mostly sun, but a few showers in the afternoon. Did I mention it rains often up here?

The plan was to leave Dawson City about 9:30. That would allow John to buy some DOT 4 brake fluid for his bike from the NAPA store that would open at 9 AM. Breakfast at the Downtown Motel, John got his brake fluid added (which was the problem since his brakes started functioning properly), we topped off with gas and had a late start out of town closer to 11 AM. That made for a late day of riding.

There was still several stretches of gravel construction sections. Most are no significant problem, but you never know until you get in one so we always slow down before we enter the gravel. If its good, we can often travel as much as 55 mph, but occasionally the gravel is loose and we slow way down to 30 mph. Tip: If you don't like to ride a dirty bike, this may not be a trip for you to make. As you can tell from the picture below, the layer of dirt totally covers the color of the bike in many places but what you can't tell is the dust is everywhere.
July 3. To Ft Nelson, BC 483 miles.
Weather: 50 degrees and no clouds when we started the day. By breakfast (145 miles) it was full cloudy sky and soon after breakfast we started running into rain - most of the day.

We stopped for a dip in the hot springs at Liard River. The stretch of road between Watson Lake and Ft Nelson was some of the best so far. We saw more wild life today than any other single day and maybe more than all of our miles in AK combined. There were bison, goats, deer, moose, elk, bears, etc.

Early in the trip, I decided to keep my digital camera above my left front pocket and my cell phone above my right front pocket. That worked very well since I had them with me almost all the time. Tip: Choose a place to keep your phone and camera all the time so you don't have to spend time looking for them when you need them.
July 4 To Dawson Creek 379 miles.
Weather: 46-68 rain in the morning, cleared by noon.

Since we had missed Chetwynd, BC for the chainsaw woodcarving competition in June, we stopped there this afternoon. The road between Fort Nelson and Dawson Creek is boring and we saw almost no wild life. I did see one doe (deer). On the side trip to Chetwynd, the road turned much more interesting and I did see one moose as we were leaving Chetwynd.
July 5. To Edmonton, Alberta. 370 miles.
Weather: NO RAIN. Temps in the 60's.

Before we got 60 miles down the road, we had another mechanical failure. The alternator belt on Black Cloud's bike gave out. He only has 55,000 miles on his bike and that seems like a premature failure to me. We didn't see anything that could have caused it. Fortunately it happened today rather than tomorrow because Fritz had an extra belt with him!! By noon, we were fixed and ready to roll.
July 6. To Moose Jaw, Saskatchewan. 485 Miles
Weather: 65-75 mostly cloudy with very little rain.

Since the BMW Dealership didn't open until 9 AM and John wanted them to 'check his repair work', we didn't leave Edmonton until after 11 AM. Fritz left about a half hour before us since he was heading south and we were heading southeast.

We saw many more fields of the rapeseed plants. The road was great and we did OK considering we did very little riding in the morning.

The Motel 8 that we stayed at in Edmonton was $40 more than the Motel where we stayed tonight. The Internet was marginal at best at the Super 8 and didn't work at all in the morning - even the desk clerk couldn't get me connected. Fortunately the BMW Dealership had wireless so I got more stuff done while waiting for John. Tonight we have a room with a kitchenette and the Internet is GREAT!!! This is a little 'mom & pop' place just SE of Moose Jaw - called Knowles Motel on Route 1, about 4 miles from Route 39 that we'll be taking in the morning to North Portal and Portal where we'll enter into ND.
July 7. To Bemidji, MN
Weather: Rain (what's new??)until we got past the US border.

As we approached Portal, ND John dropped back - probably to take a picture of the border crossing. As I presented my passport I was asked, among other questions, if I had any medical procedures recently. She went on to explain that one of their sensors had set off their alarm. My bike was scanned by a hand held device and I was asked to enter a garage ahead. Once inside, I was asked by one of the 6 border crossing guards to open all my bike compartments and I was escorted into a small room where I joined a family of 6 who were also having their van inspected. About 15 minutes later, I was told I could leave. I had to repack my bike - as some of you know, things often need to be packed 'just a certain way' to get it to all fit. When I finished re packing, I looked for John. He didn't get directed into the garage where my bike and belongings had been stripped searched and I didn't see him waiting to enter the US. I went through the garage and made a U turn back toward the border check point. Without John in sight, I figured they let him pass and he may not have seen my bike in the garage. I would never catch him since our SOP when John stopped for a picture, we would continue riding (a little slower) to allow John the opportunity to catch up by riding a little over the speed limit. He may be heading down the road at 70-75 and I didn't know how far that he might be ahead of me so I just started riding at about 60 mph. Since we hadn't had breakfast and would both need gas before another 100 miles, I expected to see him at either a restaurant or gas station. If I didn't catch up to him by the time I needed to stop, I would try calling his cell phone.

John was, in fact, behind me. He was the one to set off their alarm so they sent him BESIDE the garage and strip searched his bike until they found the source of the problem - it was the glow in the dark needle on the compass John had in his bike.

John caught up to me before long and we stopped for breakfast, which became our lunch. Another hour or so and the rain ended so we had a good afternoon riding through ND and into MN.
July 8. To Germfask,MI
Weather: No rain today but a bit of head wind.

We camped at the KOA in Bemidji, got an early start and made it to Duluth before lunch time. John and I split up in Michigan's UP, each to try to make contact with friends in the area. We met up again at Joe & Karen's for the night.

I don't think John was able to connect, but I did find Myra at home. Myra and Jeri are friends from grade school days and have kept in touch for 5 decades. Somehow, Jeri had been unable to connect with Myra over the past year so I stopped by to get reconnected.