This long 1/4 x 20 bolt will allow you to position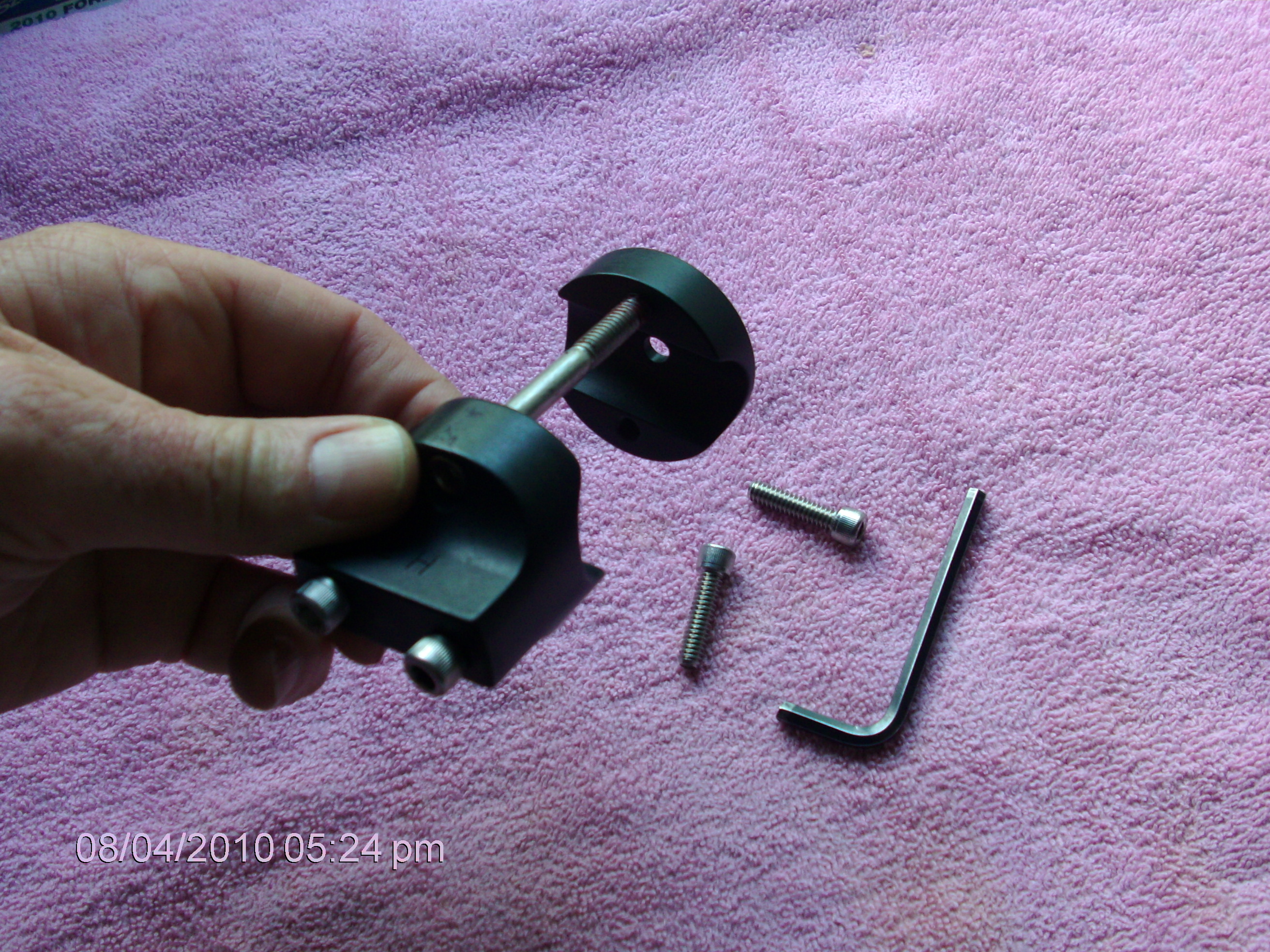 the clamp so the lower clamping bolt can be incerted.
Once mounted, you'll need to cut a small notch in the bottom of the plastic that covers your tip over bars. That notch will make room for the 'bracket'.

Your Mick-O-Pegs will be assembled for using our 'peg' but you also have the option to use a heavier peg attached to your Mick-O-Peg. Each 'leg' has two positions for the spring. If you choose to use a heavier peg, you'll need to remove the 'cover' and reassemble with the spring in the other hole to have more
pre load
tension on the spring.

If your bike falls or you have a crash, our design allows the Mick-O-Peg bracket to fold in to protect your fairing. We expect no additional damage to your bike caused by the Mick-O-Peg being there, but here's where we need help from customers who are among the first to drop their bike: If you'll provide us with information and pictures about what happened when you crashed or drop your bike, we'll provide free Mick-O-Peg replacement parts. So far, we have no information of anyone dropping their ST1300 with Mick-O-Pegs attached.
Mick-O-Pegs allow you rest your feet low and close in to the bike and are spring loaded to be up, out of the way so they don't limit your ability to enjoy the curves.

You'll receive an extra (longer) bolt to be used for mounting the 'clamp' behind the frame so you need not be as concerned about dropping the clamp while trying to get the mounting bolts in place.

You'll begin mounting Model S13 by putting the extra bolt through the top hole of the 'standoff' part and screwing it into one tapped hole in the 'clamp' as pictured below. The Standoff looks like a knob on an old stove. The clamp will fit behind frame just ahead of the tip over bar. The extra bolt is long and allows you to slide the standoff away from the clamp so they will fit over your frame. Once in place you can install the first mounting bolt through the bottom holes (under your frame). Then you'll remove the longer bolt and replace it with your second mounting bolt. The next two mounting bolts will attach the 'bracket' to the standoff.